12.21.2015
Homegrown 2015 Holiday Gift Guide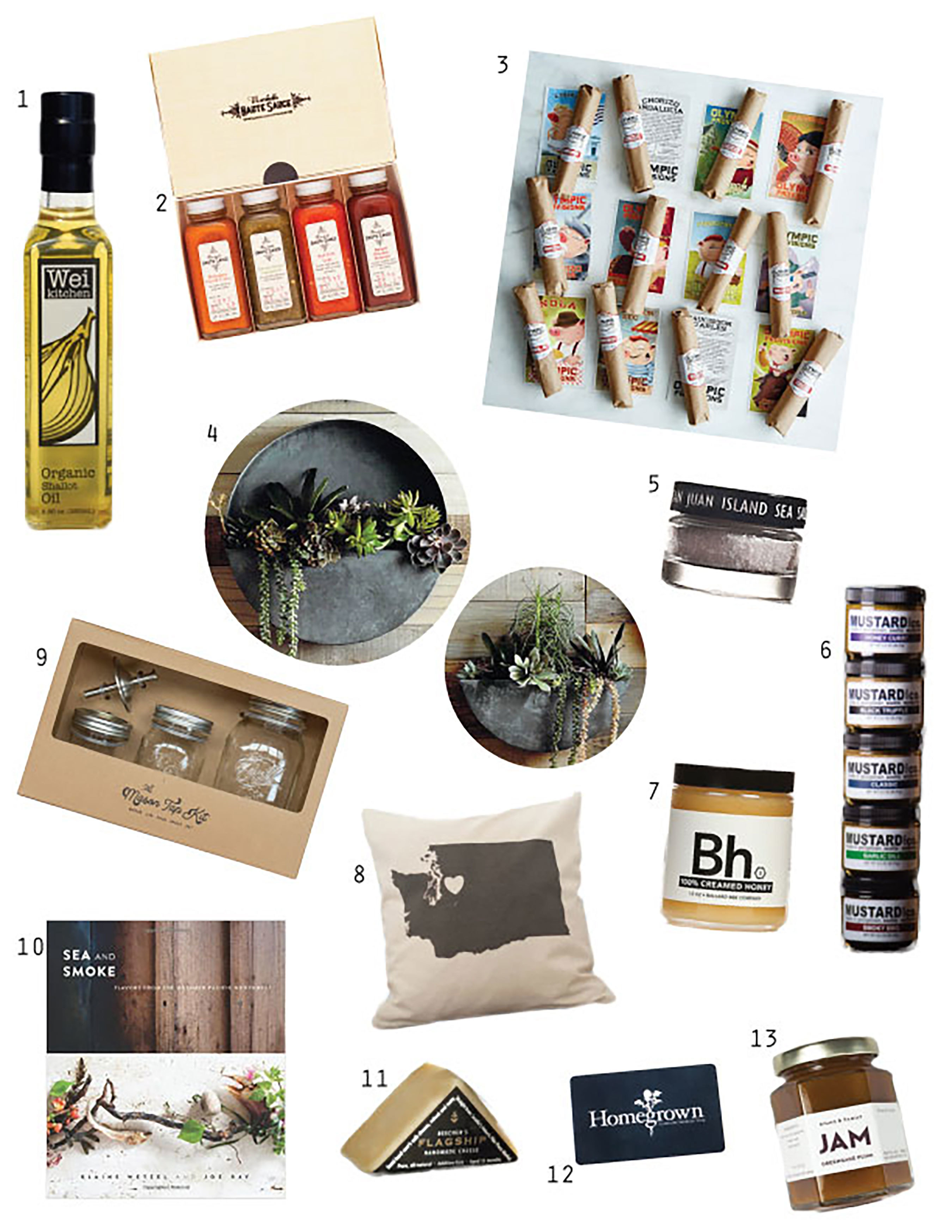 It's a mad dash to the finish line as the Holidays approach. Fear not, we've got you covered with a list of our favorite local products for your family and friends this season.
1. Wei Kitchen Organic Shallot Oil - Organic shallot oil made right here in Seattle. Debbie is infusing this safflower oil with golden shallots for a punch of flavor that goes great with both Vietnamese & American dishes.
2. Marshall's Haute Sauce Gift Pack –  Made in Portland, Oregon this hot sauce is produced in small batches with local ingredients. The gift set includes four different hot sauces – Habanero Carrot Curry, Serrano Ginger Lemongrass, Red Chili Lime and Smoked Habanero Barbeque.
Also, check out our favorite Seattle hot sauce, Bonache, you can try their habanero hot sauce on our Avocado, Egg + Cheese breakfast sandwich.
3. Olympia Provisions Salami of The Month Club – A gift made for your charcuterie-loving friend or family member, this year of Salami features Portland based company, Olympia Provisions. Each month they'll send out one of their salamis, all made with local pork, right to your door.
4. Zinc Wall Planters – A gift to brighten up any home! These wall planters from our Melrose Market upstairs neighbor, Butter Home are a great way to bring the outdoors inside during the winter season.
5. San Juan Island Sea Salt – Brady is the mastermind behind this amazing PNW sea salt. He's living in a tiny house on San Juan Island where he makes this crunchy salt with filtered sea water and sunshine. For sale in our stores!
6. Mustard & Co. Five Flavor Gift Set - We're big fans of this Seattle-based spicy mustard, so much so that we used their Classic Mustard on our Fall Seasonal earlier this year. This gift set includes five mini jars & recipe cards for each flavor.
7. Ballard Bee Company Cream Honey – Creamy, spreadable honey that any foodie will love for the holidays. Works nicely on a cheese board or simply spread on buttered toast.
8. Seattle Pillow Cover – Perfect for your friend that just moved away, this cute linen Washington pillow has a home with all your Seattleite friends, near or far.
9. The Mason Tap Kit from Glasswing – Mason jar accessories for the home kitchen – make infused spirits, oils or vinegars with this kit to be enjoyed with family and friends this holiday season.
10. Sea and Smoke: Flavors From the Untamed Pacific Northwest – The beautiful new book from Chef Blaine Wetzel of the Willows Inn is both a travelogue and cookbook. Look out for stunning photographs and a new appreciation for the beauty of the Pacific Northwest.
11. Beecher's Gift Set – It's everyone's quintessential Seattle cheese available in a number of different gift sets. A great gift for entertainers and dairy buffs alike.
12. Homegrown Gift Card – Available online or in stores, give a loved one the gift of a free meal that makes them feel good.
13. Ayako Jam – This organic jam is made here in Seattle by Ayako Gordon and family. Ayako hand selects her fruit to craft jam full of flavor nuances and integrity. You can find an assortment of her jams at another of our Melrose Market neighbors,Marigold and Mint.